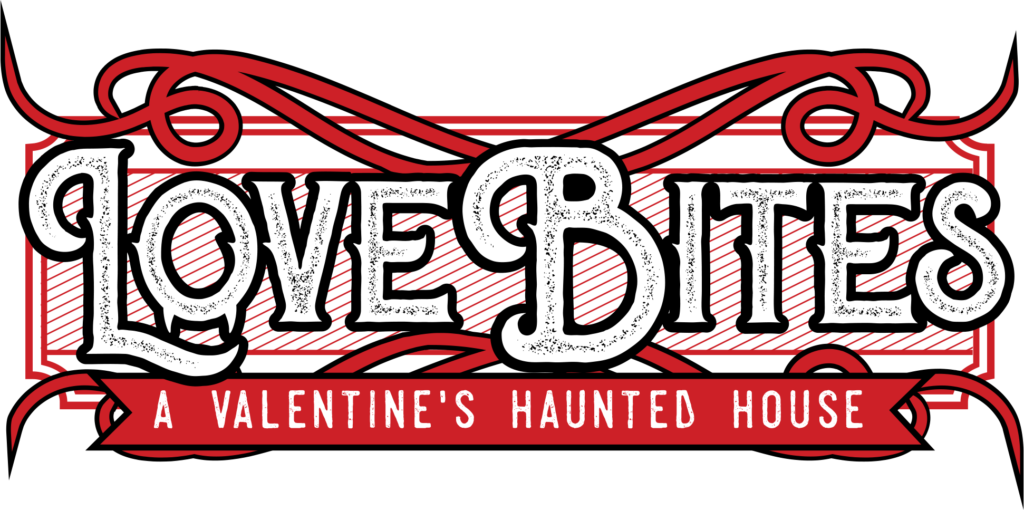 THANK YOU FOR AN AMAZING EVENT
JOIN FRIGHTCLUB FOR UPDATES ON FUTURE EVENTS
Tickets to This Special Event Sell Out Very Quickly. Join Early Access to get access to tickets before they are released to the public.
A Valentine's Haunted House
Your favorite Austin haunted house is getting a Valentine's makeover. The same thrills and chills of the Halloween season but with a lover's twist. Forget the boring dates of Valentine's Day past and come experience something stimulating this year.
"The Scariest Haunted House in America"

Immersive Haunt Experience
Valentine's Themed Attraction
Horrific vampires stalk you in the dark. Terrifying monsters lurk around every corner. The perfect experience to spice up your Valentine's weekend.
Exclusive Love Bites & Horror Merch
Commemorate your Love Bites experience with limited edition Love Bites and horror merch. Treat you and your boo this Valentine's weekend! 
Valentine's Themed Photo Ops
Get your photo taken in our Haunted Valentines photo op. Watch out, creatures may be lurking just around the corner. Now featuring selfie stations, as well as printed photo options.
What Our customers are saying
Checkout what our customers and media outlets are saying about House of Torment Haunted House.
Relive your most awkward photo days & get a photo with one of our Tormentors in our NEW Monster Prom Photo Op. This exclusive Photo Op will only be available for Love Bites 2023.
*SEPERATE TICKET Required
What is the Neon Coffin? Some say its a mysterious deathfully colorful room with a Vampire Ghoul & her Spirits. Don't miss the exlusice Coffin Photo Op inside either. Once you find the Neon Coffin youll never be the same….
House of Torment reserves the right to refuse service to anyone. No refunds. Check-in at "Haunt Topic" upon arrival.
Hades Vampire Simulation is a brand new vampire shooting experience featuring live actors and utilizing GellyBall Guns. GellyBall is a new game that uses an electric pistol, similar to an airsoft pistol, that shoots an 8mm colored water balloon, allowing for a much lighter impact and no permanent mess.
Gellyball is completely safe, as it's much smaller than a traditional paintball. Guests will be required to wear protective eyewear, provided at no extra charge, and will be in a shooting range-style booth shooting into a zombie apocalypse simulator with live actor Vampires.Your experience will last approximately 5 minutes, where you will receive one hopper with 700 rounds of GellyBalls. See you at the range!
*SEPERATE TICKET Required
Can't get enough of our scares? Get a Respawn Pass to go through 1 more time through Love Bites & experience the jumps & scares. Purchase this pass at the Box Office with proof of purchase of original ticket.
*SEPERATE TICKET REQUIRED
House of Torment Selfie Museum returns! Come experience our Selfie Museum as a Vampire Ghoul guides you through Illusion Manor & sets up the perfect selfies for you & with you! Only time to experience this is during our off season events so don't miss this exclusive opportunity.
*SEPERATE TICKET Required
Mini Escape Rooms are a fully interactive and immersive experience unlike anything you have ever done before! Race the clock: Your group enters a room and has only 5 minutes to use clues and riddles hidden throughout the room that provide the tools necessary to meet the objective. As the clock ticks down and the pressure mounts…can you stay calm, can you escape?
*SEPERATE TICKET Required
By signing up for early access, you will be notified for Love Bites tickets on 1/18 at 11AM Local Time. You will have an hour to secure your tickets before they go on sale to the general public.
Tickets to This Special Event Sell Out Very Quickly. Join Early Access to make sure you get yours.

World's largest halloween entertainment company
Thirteenth Floor Entertainment Group is the world's largest Halloween-themed entertainment company, with over 15 locations and counting! We bring a premier haunted house experience to markets all across the country.
2632 Ridgepoint Dr, Austin, TX 78754